Regularly Scheduled Home and Office Cleaning Services for Southeast Wisconsin
Get Your Home or Office Cleaned Weekly, Bi-Weekly or Every Four Weeks—No Contract Required!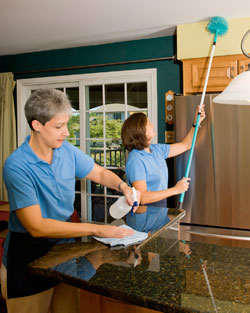 Cleaning takes time and energy many of us don't have to spare. Keep your house, condo, apartment or business tidy with ongoing, regularly scheduled professional cleanings.
A team of four highly trained housekeepers will clean as much or as little as you choose. Our services are customizable and are charged by the hour, so you decide what cleaning tasks we perform and how much time we spend. See our general home cleaning services and office cleaning services for the T&M Cleaning System.
If you have children or pets or frequently have company over, try our weekly cleaning service to stay on top of things. Our West Allis cleaning professionals will come into your home once a week to clean as much or as little as you want. Simply contact us for a free quote and get a 15% discount on your first general house cleaning ($250 minimum charge).
Weekly cleanings are perfect for keeping busy offices tidy, too. You'll never have to deal with a dirty or cluttered office ever again – just call T&M Cleaning and get started on your weekly cleanings today.
If weekly is a bit too often, our bi-weekly cleaning services can be a perfect solution. Our cleaning professionals will only come in once every other week to clean as much or as little as you want. Bi-weekly cleaning services can be great cleaning solutions for smaller homes and offices.
Just need a little help keeping things tidy once in a while? Our regular 4-week cleaning service is just what you need. Call our offices in West Allis, WI and schedule your cleanings once every four weeks at your southeast Wisconsin home or office space.
Getting ready for a party at home or a big event at the office? Our occasional or one-time cleanings require no commitment for future services. Schedule cleanings only when you need them.
Contact Us
With all your cleaning questions