Milwaukee House Cleaning Services Serving Southeast Wisconsin
Superior Housekeeping from Highly Trained Professionals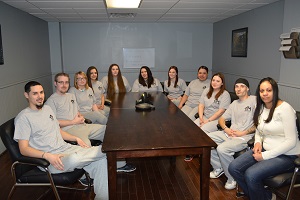 T&M Cleaning Services Inc. is an independent, family owned cleaning company. Our staff is committed to providing superior customer service and building a long lasting relationship with each of our customers. We offer 15% off your first general home cleaning* and don't require any long term contracts.
We work hard, earning the right to keep your repeat business. On our first visit, we do a deep clean, ensuring your home is sparkling. After this initial service, we recommend a cleaning every two weeks to maintain your home. If your home needs cleaning more or less often, we can accommodate you with weekly or 4-week cleanings.

Learn more about our house cleaning services:
We have a state-of-the-art cleaning facility located in our West Allis headquarters. This training facility consists of various room set-ups and cleaning surfaces; each member of our staff is fully trained and equipped with the knowledge to clean your home quickly and efficiently. Unlike many franchised cleaning companies, we only hire and train the best talent. When you call T&M Cleaning, you can rest assured you're getting the best cleaning services at the best prices in Milwaukee.
*Note: 15% off applies only to General Cleaning Services, not Specialty Services.
General Cleaning Services: The T&M System
During each home or office cleaning, we send a team of four to your home. This team consists of two dusters, a bathroom cleaner and a kitchen specialist. Each team of 4 also has a cleaning specialist as a member of the crew who, upon completion of the T&M cleaning system, goes through your entire home to ensure everything is cleaned up to par.
Please keep in mind, all services are charged based on time. We will do as much or as little as you request. One-time and scheduled cleanings are customizable.*

Cobwebs
Dusting
Wipe down or vacuum couches in/out
Wipe tables/chairs/desks
Wipe TVs/lamps
Vacuum all carpeting/stairs
Vacuum/mop all floors
Wash all counters
Clean appliances in/out (excluding inside oven, dishwasher and refrigerator)
Scrub sinks
Wash cabinet fronts in bathrooms
Cabinets in kitchen washed around handle area only
Scrub showers/tubs
Disinfect toilets in/out
All bathroom floors and bathroom baseboards hand-washed
*Please note, additional baseboards, blinds, hand washing ceiling fans and light fixtures, and making beds are done by request only.
House Cleaning Services
When you call our professional housekeepers and cleaners, you customize the home cleaning services you get. We will focus on whichever tasks and areas of the house you choose. We offer house cleaning for:
Apartment Cleaning Services
We clean any residence, not just houses! Keep your studio apartment, a one or two bedroom, or a townhouse apartment clean with our apartment cleaning services. If you are a student living in a dorm or apartment, make sure you also check out our cleaning services for college students.

Office Cleaning for Small Businesses
Commercial cleaning services for companies in the Milwaukee area include the general T&M Cleaning System described above, as well as any other cleaning by request. Schedule regular office cleanings weekly, bi-weekly, or every 4 weeks, or call our office cleaners occasionally as needed to keep your business looking neat and professional. We offer office cleaning for:

Residential Move In/Out and Newly Built Homes and Foreclosures Cleaning:
Check one item off your to-do list for moving without lifting a finger. Our move in/move out cleaners in West Allis clean apartments, houses, foreclosures, condos, newly remodeled homes, and more so you can focus on settling into your new home. In addition to using our general T&M Cleaning System, we will clean:
Cabinets, closets are all washed and disinfected in/out
All woodwork, doors and light switches wash and disinfected
All light fixtures, ceiling fans washed
All floors vacuumed and washed, all carpet vacuumed/edged
Any leftover property and garbage may be removed from the property but not taken with us. We can dispose of garbage provided there is a designated area to put the items (excluding furniture and appliances)
Wash inside/outside all appliances being left behind or newly purchased
Clean Out Garages, Attics and Basements:
Our garage, attic and basement cleaners will:
Remove all items (to clean the space)
Clear away all cobwebs and brush down walls
Wash down any cabinets and shelving in/out
Sweep and hose down floor (if proper drainage)
Clean any furniture/appliances
Put all items back in an organized fashion
Windows and Storm Screen:
Our professional window cleanings include:
Wash down with a degreaser and bug cleaner
Screens are wiped down
Window wells washed/vacuumed
Home, Office and some Specialty Services Provided:
Schedule your ongoing cleaning services online or call us today!
*Some specialty services are provided on Saturdays
Milwaukee's Best Cleaning Company
At T&M Cleaning, we put the customer first. We focus on building a positive relationship with each client, ensuring you're fully satisfied with the services we provide. We outshine the competition, providing superior services at affordable prices. All our employees are American citizens, subject to extensive background checks, and fluent in English. From your first studio apartment to your family home, allow the professionals at T&M Cleaning Services to clean your home or office so you can enjoy the more important things in your life.
Contact the home cleaning experts at T&M for 15% off your first general home cleaning today ($150 Mininum Charge).
Contact Us
With all your cleaning questions