Professional Housekeeping Services for Homes and Offices Brookfield, WI
Housekeeping Services in Brookfield from T&M Cleaning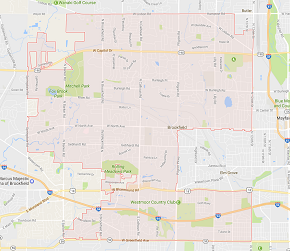 Residents and businesses in Brookfield trust the housekeeping professionals at T&M Cleaning.
When you want your Brookfield, WI home or office building cleaned thoroughly by top-notch housekeeping professionals, T&M Cleaning is the way to go! We offer the best one-time and regular cleaning services in the Brookfield area, and we can help you keep your home or office looking clean and uncluttered. Brookfield residents and business owners trust our professional cleaning staff with their homes and offices. Each staff member is trained at our Practice Facility before ever entering a client's home or office.
Home, Apartment or Office Cleaning from the Wisconsin Professionals
The expert housekeepers at T&M Cleaning Services provide residents and business owners in Brookfield with the best housekeeping services at the lowest prices. Whether you live in a house, apartment, condo or townhouse, our team of cleaning professionals can keep your living space tidy and help you de-clutter. We clean offices throughout the Brookfield area and beyond-- even dental offices and law firms, we offer the best, most comprehensive cleaning services on a weekly, bi-weekly, or monthly basis. Find the best price for home cleaning services in Brookfield and learn how you can get 15% off your first general house cleaning ($250 minimum charge).
Professional Housekeeping Services in Brookfield, WI
T&M Cleaning Services is a licensed, family-owned cleaning company. For 30 years, we have been cleaning homes and offices throughout Southeastern Wisconsin, and we continuously strive to create long-lasting relationships with all of our clients with our quality cleaning service. We will clean as much or as little as you want, and you can also check out our specialty cleaning services when you need housekeeping services on the weekend.
Some of the general cleaning and commercial cleaning services we provide for Brookfield homes and offices include:
Dusting furniture
Removing cobwebs
Wiping down or scrubbing furniture
Vacuuming or mopping all floors
Vacuuming stairs and sofas
Vacuuming carpets
Full kitchen cleaning - appliances upon request
Bathroom washing and tile scrubbing
Scrubbing sinks, showers and tubs
Washing baseboards and cabinets
*We do not take garbage and leftover property with us. We can dispose of garbage if there is a designated area to put the items (excluding furniture and appliances).
Keep your home tidy in between professional cleanings from T&M with our general home cleaning tips.
Move-In Cleaning Services That Welcome You Home
T&M Cleaning takes the stress out of moving with our move-in cleaning services. Designed to provide a fresh and sanitized space, our team cleans every nook and corner, ensuring a welcoming environment for your new beginning. From thorough deep cleaning to tackling tough stains, we ensure a spotless transition into your new home. Experience the convenience and comfort of moving into a pristine space with our reliable and professional services.
Discover the Magic of Our Spring Cleaning Services
Prepare your home for the vibrant season with T&M Cleaning's spring cleaning services. Our team rejuvenates your space, banishing winter's remnants and ushering in the freshness of spring. From thorough dusting and deep carpet cleaning to sanitizing high-touch surfaces, T&M Cleaning ensures a healthier, more vibrant environment for you to enjoy. Experience the transformative power of our Spring Cleaning services and embrace the season with a revitalized home.
Contact Us
With all your cleaning questions