Terms of Service
Wisconsin Housekeeping Service Terms and Conditions
T&M Cleaning has designed a specialty cleaning system that has been perfected by our team since 1986. The cleaning specialist in each group implements and leads the team, tailoring our system to meet your specific needs. Our system is designed to provide your home with a consistent clean after each visit.
Due to the physical job requirements, there is some liability that must be addressed. To reduce liability risk, we ask all of our clients to please remove all fragile and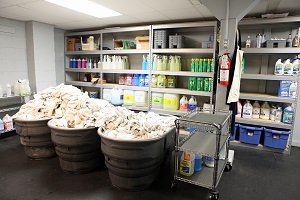 valuable items to a safe place. By complying with this simple request, we can avoid any expensive damage or breakage. Our team will be able to give your home or office a deeper clean while keeping our staff and your fragile valuables protected.
T&M Cleaning has extensive experience cleaning homes and offices throughout Wisconsin. Our many years of experience make us less likely to have breakage or damage. A breakage liability exists for all cleaning companies, no matter who cleans your home or business. Please note, any breakage or damage under our $250.00 insurance deductible will not be covered by T&M Cleaning Services Inc. or by our insurance company. We thank you for your cooperation in helping our teams better serve you.
Safety Tips:
Remove any fragile or valuable items to a safe place and inform your cleaning specialist to avoid cleaning that area.
Alert your cleaning specialist of any loose shelving or hanging pictures that are not stable.
Place any animals in a safe place so your cleaning team can provide a comprehensive clean.
Please discuss proper usage of any special chemicals you may want used in your home or office.
We highly recommend that you allow us to use our chemicals and equipment because our team members have been highly trained on proper use.
36 Hour Cancellation Policy:
We do not have cleaning contracts locking customers into a long-term obligation with us, therefore it is important for us to make customers aware of our cancellation policy. We require a 36-hour notice of cancellation.
Any cancellation within 36 hours will be charged a $50.00 cancellation fee. We charge a cancellation fee because cancellations after 36-hours cause an opening in our scheduling with a small window of time in which to try and fill your spot. Not only is this a company loss but also the employees lose hours they very much depend on.
If you have any questions or concerns regarding our policies please call the office at (414) 933-2785 or email customerservice@tm-cleaning.com. Thank you for understanding.
SATISFACTION GUARANTEE:
If you are unsatisfied with your home or business cleaning upon completion, within 24 hours of the service provided and paid in full, our team will return to your home or business and re-clean the entire area to your satisfaction, free of charge. Please don't hesitate to call or email if you are ever unhappy with service we provided.
Contact our Milwaukee housekeepers for more information on our customizable cleaning solutions.
Contact Us
With all your cleaning questions