Professional Home & Commercial Cleaning Services in New Berlin, WI
Keep Your New Berlin Home or Office Tidy All Year Long with Housekeeping from T&M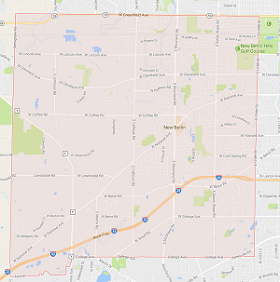 Residents and businesses in New Berlin trust the housekeeping professionals at T&M Cleaning.
Our New Berlin housekeepers are available to clean whenever you need – whether you want just a one-time cleaning or you want regular ongoing services, you can customize your service to fit your needs with T&M Cleaning. Our service area extends beyond Brookfield through all of Southeastern Wisconsin, so we've really cleaned it all. What sets us apart is our commitment to quality and the customizability of our services. Only pay for what you really need done. No packages and no contracts, just quality maid service to help you out whenever you need it.
New Berlin Professional Maid Services from T&M Cleaning
T&M Cleaning Services is a licensed, family-owned cleaning company. We have been cleaning homes and offices throughout southeast Wisconsin for 30 years now, and we continuously strive to create long-lasting relationships with all of our clients by providing them with quality services.
Our professional housekeepers will clean as much or as little as you want, and you can also check out our specialty cleaning services when you need specific services or housekeeping done on the weekend.
Some of the general cleaning services we provide for New Berlin homes and offices include:
Dusting TVs and lamps
Removing cobwebs
Wiping down tables, chairs and desks
Vacuuming or mopping all floors
Vacuuming stairs and couches
Washing kitchen and bathroom counters
Scrubbing sinks, showers and tubs
Washing bathroom floors, baseboards and cabinet fronts
For a more detailed explanation of our services, see our housekeeping service page.
Experience the Transformation of Our Spring Cleaning
T&M Cleaning's spring cleaning services will assist you in preparing your home for the spring season. Our home cleaners energize your space, eradicating the final residues of winter and bringing in the radiance of spring. From comprehensive dusting and deep carpet cleaning to sanitizing high-touch surfaces, T&M Cleaning provides a cleaner, more pleasant environment for you to enjoy. Discover the transformative power of our Spring Cleaning services and embrace the arrival of spring in style.
Trusted Regular Cleaning Services
We take the hassle out of maintaining a pristine environment with our reliable cleaning services. Our team ensures that your space remains consistently clean and organized, tailored to your schedule and preferences. From dusting and vacuuming to disinfecting high-touch surfaces, we provide a comprehensive approach that guarantees a healthier and more enjoyable living space. Enjoy the convenience and peace of mind that comes with a consistently clean home through T&M Cleaning's cleaning services.
New Berlin home and business owners who want the best professional cleaning trust the T&M staff with their homes and offices. Each staff member is trained at our Practice Facility to ensure consistent quality from all of our staff. To keep your New Berlin house clean between professional services, check out our cleaning tips.
Contact Us
With all your cleaning questions