Commercial Cleaning Services for Businesses in the Milwaukee Area
***Special Office Cleaning During Temporary Shutdown or Work-From-Home***
Now is the perfect time to get the office deep cleaned. Our expert cleaners will get the cracks that have gone untouched for months, and the crumbs leftover from that New Year's party. While everyone is safe at home, T&M Cleaning is ready to vacuum, disinfect and make the office sparkle so your employees come back to a fresh workplace.
Keep Your Dental Office, Dermatology Clinic, Legal Office or Other Business Looking Clean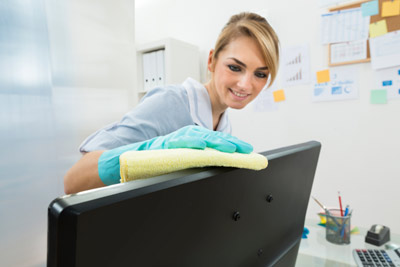 Whether you need the occasional one-time cleaning or regularly scheduled office cleanings (weekly, bi-weekly or every four weeks), our commercial cleaning business will ensure your office stays neat and professional. T&M's general cleaning services can be customized to meet the needs of your office.
A regular office cleaning includes:
General
Remove dust and cobwebs
Wipe down tables, chairs, lamps and desks
Vacuum all carpeting and stairs
Mop or vacuum all floors
Wash fronts of bathroom cabinets
Disinfect inside and outside of toilets
Hand wash all bathroom baseboards and floors
Wash all countertops
Clean inside and outside of appliances (except oven, dishwasher and refrigerator)
Scrub sinks
Wash handles of kitchen cabinets
By Request Only
Wash additional baseboards
Clean blinds
Hand wash ceiling fans and light fixtures
Check out some of our specific cleaning services for medical offices, law offices, dental offices, small businesses, banks and daycare facilities.
Contact Us
With all your cleaning questions