Office Cleaning Services for Milwaukee Businesses
Keep Your Milwaukee Dental Office, Dermatology Clinic, Legal Office, or Other Business Looking Clean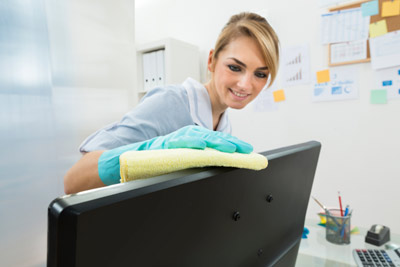 Whether you need the occasional one-time cleaning or regularly scheduled office cleanings (weekly, bi-weekly or every four weeks), our commercial cleaning business will ensure your office stays neat and professional. T&M's general cleaning services can be customized to meet the needs of your office.
Why Choose T&M Cleaning?
T&M Cleaning is the preferred choice for clients seeking a comprehensive range of cleaning services tailored to their specific needs. Our commitment to excellence, coupled with state-of-the-art equipment, ensures that our teams deliver a hygienic space that exceeds expectations. Whether you require a one-time cleaning or regular cleaning services, our professionals are here to provide you with a consistently clean and fresh environment.
Delivering Professional Cleaning Services for a Variety of Office Environments
At T&M Cleaning, our teams are well-trained to work in a wide range of different offices. Examples of offices we have successfully serviced in the past include:
Components of an Office Cleaning
A regular office cleaning includes:
General
Remove dust and cobwebs
Wipe down tables, chairs, lamps and desks
Vacuum all carpeting and stairs
Mop or vacuum all floors
Wash fronts of bathroom cabinets
Disinfect inside and outside of toilets
Hand wash all bathroom baseboards and floors
Wash all countertops
Clean inside and outside of appliances (except oven, dishwasher and refrigerator)
Scrub sinks
Wash handles of kitchen cabinets
By Request Only
Wash additional baseboards
Clean blinds
Hand wash ceiling fans and light fixtures
Premier Cleaning Services in Wisconsin
T&M Cleaning proudly provides cleaning services to the Wisconsin cities of West Allis, Wauwatosa, Milwaukee, Elm Grove, Waukesha, Hales Corners, Oak Creek, Brookfield, New Berlin, and more!
Contact Us
With all your cleaning questions