Home Cleaning Services in Milwaukee, Brookfield, Waukesha & Surrounding Areas
Basic Top-to-Bottom Cleaning for Houses, Apartments & Condos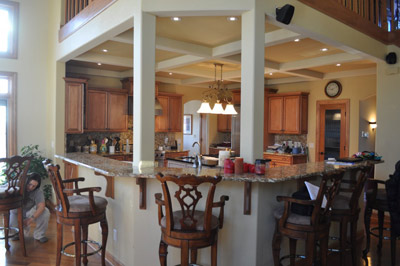 The general cleaning services included in the T&M System can be customized for whatever you need. Our Milwaukee area home cleaners will focus on whichever specific tasks or areas of the house you choose. We offer ongoing service as often as you need or specific one-time services for special things like moving in / out or party prep and clean up.
Whether you need a one-time cleaning for a special occasion or regular cleanings to keep the house tidy (weekly, bi-weekly, 4-week), we never require contractual agreements.
Basic cleaning includes:
Wash all countertops
Clean inside and outside of appliances (except oven, dishwasher and refrigerator)
Scrub sinks
Wash handles of kitchen cabinets
Wash fronts of bathroom cabinets
Scrub showers and tubs
Disinfect inside and outside of toilets
Hand wash all bathroom floors and bathroom baseboards
General
Dusting and removing cobwebs
Wipe down or vacuum couches in and out
Wipe tables, chairs, and desks
Wipe TVs and lamps
Vacuum all carpeting and stairs
Vacuum or mop all floors
By Request Only
Wash additional baseboards
Clean blinds
Hand wash ceiling fans and light fixtures
Make beds
All cleaning services are charged based on time. Our house cleaning team will do as much or as little as you want, and our specialty services will be available to you for an extra fee.
T&M Cleaning Services will keep your home, apartment, or condo in tip-top shape, no matter what. We cater to specific individuals, including seniors, people with disabilities, new mothers and anyone else who may need extra help keeping their home clean. Check out our other specific services for customized cleaning and discounted prices.
Our professional cleaners are trained at our West Allis Practice Facility before ever cleaning a client's home or office. We're experts in cleaning kitchens, bathrooms, living rooms, dining rooms, home offices and bedrooms.
Contact Us
With all your cleaning questions