Apartment Cleaning Services in Milwaukee & Southeast WI
Apartment Complex & Individual Apartment Maid Service in Wisconsin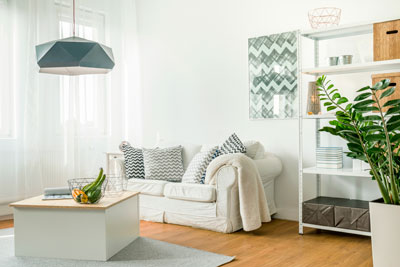 You can keep your southeast Wisconsin apartment, condo, or townhouse clean with the help of the professional housekeepers at T&M Cleaning. We offer extensive and thorough cleaning services for residents with apartments of all shapes and sizes, including:
Specifically for residential cleaning jobs, T&M Cleaning offers maid services characterized by quality for the Milwaukee area. With a 15% discount off first time general cleanings, our team of housekeepers offer quality service at affordable prices and ensure your apartment will be spotless after we leave. Showers, sinks, appliances and cabinets—our expert cleaning service covers it all.
Messes build up quickly, and it can be hard for people like seniors, busy parents and even students to keep up with clutter. Dust, food and other cooking substances build up on sinks, counters and microwaves to harden over time, making cleaning a workout. If you're living in a studio apartment, one or two-bedroom apartment or townhouse in the Milwaukee area, contact T&M for a quality cleaning. Our team of professionals will leave your home a mess-free zone. Kitchen cleanings can include:
Countertop Washing
Complete Appliance Cleaning – Inside AND Out (Except Ovens, Dishwashers, and Refrigerators)
Sink Scrubbing
Cabinet Handle Washing
With T&M Cleaning, the time needed to scrub water rings off tubs or wiping down toilets is covered through customizable cleaning plans. Getting the grime buildup out of your floor and having a pristine bathroom ready for guests without a single thought, day off of work or drop of sweat is possible. T&M bathroom cleanings could include:
Bathroom Cabinet Surface Washing
Shower and Tub Scrubbing
Complete Toilet Disinfecting – Inside AND Out
Bathroom Floor and Baseboard Hand Washing
General Apartment Cleaning for Landlords & Tenants
Our Milwaukee cleaning services are perfect for people who are elderly or have health conditions, such as asthma, making tasks such as dusting a risk to their health. Bulky vacuums can be hard to lift as you get older and allergies can keep some people from being able to do deep cleanings. Get the full general cleaning package today, with services including:
Dusting/Cobweb Removal
Couch Cleaning: Wipe Downs or Vacuuming - Inside AND Out
Table, Chair, Desk, TV, and Lamp Wipe Downs
Carpeting and Stair Vacuuming
Floors: Vacuuming or Mopping
Additional Services By Request Only
If you're not able to reach the fans in your room, or cleaning window blinds seems like a task too tedious for you, T&M Cleaning can take care of some of your miscellaneous cleaning tasks. If you're interested in adding something not listed below in your cleaning plan, just ask. Included below are additional cleaning services we can provide by request for residents from the greater Milwaukee Area:
Additional Baseboard Washing
Blinds Cleaning
Ceiling Fans and Light Fixtures Hand Washing
Bed Making
All of our professional cleaning services are charged based on time. Our house cleaning teams will do as much or as little as you want, but the quality of our work will always remain the same to give you the satisfaction you're looking for in a clean home. If you like our work, refer us to a friend to receive $20 dollars off your next cleaning! T&M Cleaning Services firmly believes relationships with customers come before business. Call us today with any questions or comments you have regarding our Wisconsin cleaning service!
Contact Us
With all your cleaning questions