Interior Car Detailing in Waukesha, Milwaukee, West Allis & Surrounding Areas
Auto Detailers Pick Up and Drop Off Your Car for a Thorough Interior Cleaning
Cleaning a car before you sell it can go a long way, as one of our customers put it:
Prior to listing my car for private party sale, I realized that I did not possess the skills to clean and detail the vehicle. I searched and read reviews of people who do auto detailing. I decided to have T&M do the work. As a result of the quality of their work, specifically Mike in whose hands the work was done, I was able to sell the vehicle for $2,000-$4,000 over the listing prices of the same make and model. The new owners were stunned by the cleanliness of my car. It was a significant factor in making the sale. Thank you to Mike at T&M.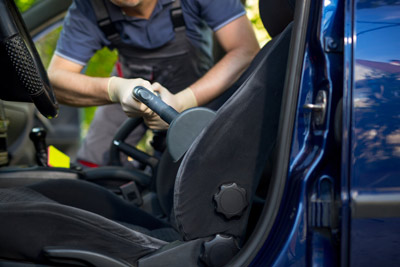 Our expert car detailers use toothbrushes, q-tips, air pressure and other tools for extensive interior cleaning that restores the fabric to its original condition. A brief overview of services:
Shampoo and extract upholstery, carpeting, & door panels
Clean and condition leather and vinyl
Clean all glass and mirrors
Dress trim with low luster Armor All
Wash door jambs
Clean trunk
Freshen scent
For just $20 more, we'll pick up your car and drop it back off when we're finished.
We train all of our employees the clean every single inch of the interior of your vehicle. Our complete interior auto detailing service includes a thorough cleaning of the car, even tight spaces under and between the seats. Our interior detailing service is so precise that you will want to relax in your car all day long.
Contact our Waukesha car detailers for a thorough interior cleaning, including carpets, upholstery, and trunk.
My home garage was a mess. T&M sent a fantastic crew of four over to my home. In an hour they had it clean, swept, and hosed out. Lawn implements and storage containers were wiped clean, dust bunnies removed! I am so happy with my clean garage! They did an excellent job! I so appreciate the work they did. Team was friendly, and professional, and made good suggestions. I will definitely have them back for future cleanings and would recommend to others. Thank you again T&M.
★★★★★
Donna S
Great company, fantastic staff, they do a wonderful job cleaning our house.
★★★★★
Josh S
T&M comes to my business every week with a full crew and gets 8200 sq ft quality cleaning in just a few hours. The staff is very kind and respectful as we continue to do business while they are working. Thanks for years of great service.
★★★★★
LaNette M
I used T&M Cleaning for the home I just purchased. I was very pleased with their service. They contacted me on the way here and once here, asked what exactly I was looking for and said there were several different options depending on what I wanted. They were efficient and pleasant. I will be using their service again.
★★★★★
Dan S
T&M has been cleaning my home for years. Cleaning crews are consistently pleasant and efficient. They do a great job of keeping my home looking and feeling fresh and dust-free. No easy task, as I have boatloads of breakables on bookshelves and coffee tables. When I have a special cleaning request, I simply call to arrange for additional service. Keep up the great work!
★★★★★
Charles L
I have used T&M for a very long time - like 20+ years - and they are very valuable to me! I love the training protocol that creates an efficient and very effective team that stays focused and fast but is still delightful to get to know. They are not afraid to dig in. You should see my basement now! Love T&M.
★★★★★
Kathe H
Contact Us
With all your cleaning questions